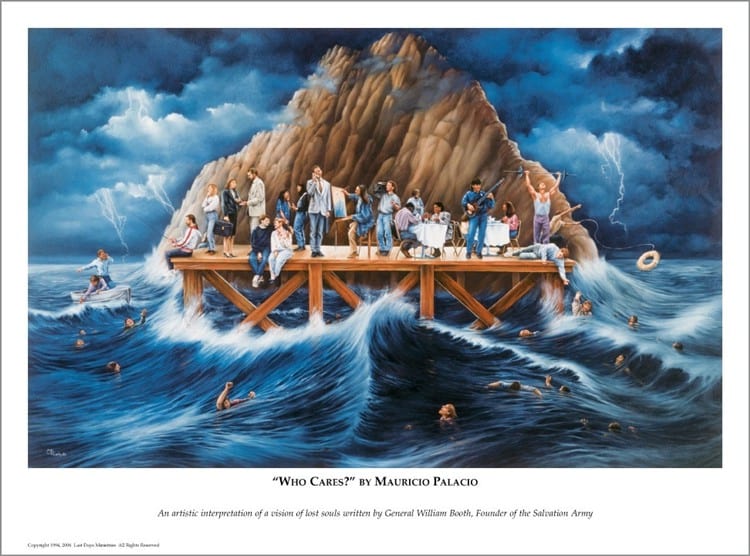 Spiritual Disciplines: Evangelism Parent/Student Discussion
Grace and peace Hope Point family,
A Terrifying Dream
William Booth, the founder of the Salvation Army, once had a terrifying dream that depicted a vast, dark,  raging ocean that was strewn with poor souls drowning amidst the relentless waves. The terrifying thing about his dream was not the plight of the perishing souls; instead it was the lack of concern of the Christians who were "safe" upon the platform indulging themselves in the pleasures of the world. Booth exclaimed, "What puzzled me most was the fact that though all of them had been rescued at one time or another from the ocean, nearly everyone seemed to have forgotten all about it. Anyway, it seemed the memory of its darkness and danger no longer troubled them at all. And what seemed equally strange and perplexing to me was that these people did not even seem to have any care- that is any agonizing care- about the poor perishing ones who were struggling and drowning right before their very eyes… many of whom were their own husbands and wives, brothers and sisters and even their own children."
Booth exhorts us onward to the call of missions and evangelism when he said, "Does the surging sea look dark and dangerous? Unquestionably it is so. There is no doubt that the leap for you, as for everyone who takes it, means difficulty and scorn and suffering. For you it may mean more than this. It may mean death. He who beckons you from the sea however, knows what it will mean – and knowing, He still calls to you and bids to you to come.You must do it! You cannot hold back. You have enjoyed yourself in Christianity long enough. You have had pleasant feelings, pleasant songs, pleasant meetings, pleasant prospects. There has been much of human happiness, much clapping of hands and shouting of praises- very much of heaven on earth.Now then, go to God and tell Him you are prepared as much as necessary to turn your back upon it all, and that you are willing to spend the rest of your days struggling in the midst of these perishing multitudes, whatever it may cost you.You must do it. With the light that is now broken in upon your mind and the call that is now sounding in your ears, and the beckoning hands that are now before your eyes, you have no alternative. To go down among the perishing crowds is your duty. Your happiness from now on will consist in sharing their misery, your ease in sharing their pain, your crown in helping them to bear their cross, and your heaven in going into the very jaws of hell to rescue them. Now what will you do?" What a joy it is that we who have been redeemed and have been given the gospel can join in the greatest rescue mission the world has ever known by plunging headlong into the dark waves of this world and rescue poor, perishing, drowning souls with the Good News of what Jesus has done on our behalf. The question is, when will we start?
Discussion Questions:
What hinders us from sharing our faith with our neighbors, friends, relatives, and strangers?
Is it possible to fail in evangelism? Why or why not?
St. Francis of Assisi famously stated, "Preach the Gospel at all times. When necessary, use words." Is there truth in this phrase? How does this view fall short of what Scripture teaches?