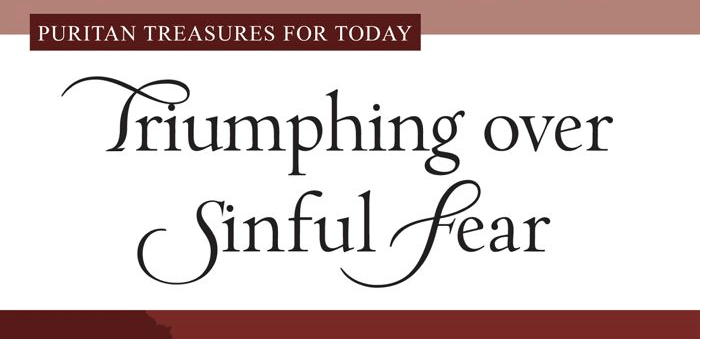 Triumphing Over Sinful Fear – Chapter 1
Today we begin our new blog series "Reading with the Staff." If you haven't heard of this read-along series then check out this post. This past week we read chapter 1 of Triumphing Over Sinful Fear by John Flavel. Check back every Tuesday (or Wednesday) for a summary of the previous week's chapter.
---
Chapter 1 serves as an introduction for the book. Flavel begins this small book by speaking of the varying levels of fear in people. He says, "some are as frightened as rabbits…and some are as bold as lions. Some fear more than they ought, some before they ought, and others when they ought not."
He goes on to make these 3 statements about fear:
The carnal person fears man, not God. The strong Christians fears God, not man. The weak Christian fears man too much and God too little.
On some level everyone struggles with fear or as Flavel puts it, "The strongest people are not without some fears." He uses the illustration of a ship on stormy waters – the church being the ship and the waves the persecution. Even for the most courageous passengers, the fears within are as "boisterous" as the storm without. "This is the result," Flavel comments,
of not thoroughly believing that the Lord—Admiral of all the oceans and Commander of all the winds—is on board the ship to steer and preserve it from the storm.
 He then turns to an example from Scripture (Isaiah 7-8) where Israel, out of fear, attempts to make an alliance with an invading country in order to avoid the approaching danger. He summarizes what God says to Israel in Isaiah 8:12-14 like this:
They are so terrified at the approaching danger that all their counsels, thoughts, and studies are occupied with preventing it…their eyes do not look to Me for protection. They expect more from Egypt than from heaven, more from a broken reed than from the Rock of Ages. Do not fear their fear! It drives them from Me to the creature. It first distracts them, and then ensnares them…see that you and all the faithful in the land sanctify Me in your hearts, and make Me your fear and dread. Rely on Me by faith in this day of trouble. See that you give Me the glory of My wisdom, power, and faithfulness by relying entirely upon My attributes that are engaged for you in so many tested promises. Do not give yourselves to sinful and vain dealings, as those who have no interest in Me nor experience of Me.
 Flavel points out from this text (Isaiah 8:12-14) a sin condemned, a remedy prescribed, and a motivation encouraged.
A Sin Condemned
"Do not fear what they fear, nor be in dread" (Isaiah 8:12b). Flavel says, "This kind of fear is a sinful principle."
Sinful fear will cause the best people to attempt to help themselves through sinful comprises. This is the fear that plagues the carnal and unbelieving…
A Remedy Prescribed
"Sanctify the LORD of hosts himself; and let him be your fear, and let him be your dread" (Isaiah 8:13).
The fear of God will swallow up the fear of man. A reverential awe and dread of God will extinguish the creature's slavish fear, as the rain puts out the fire. To sanctify the Lord of hosts is to acknowledge the glory of His sovereign power, wisdom, and faithfulness.
A Motive Encouraged
"And he will become a sanctuary" (Isaiah 8:14a).
If we sanctify the Lord of hosts by acknowledging Him and depending upon Him in times of danger, then He will be our sanctuary. He will surely protect, defend, and provide for us in the worst times and cases…Let the wind roar, the rain beat, the lightning flash, we are in safety…
 Conclusion
Flavel pulls two points of doctrine from the above explanation of the text.
The best people are easily overcome with slavish fear in times of imminent distress and danger.
The fear of God is the most effectual means for extinguishing sinful fear and keeping us from danger.
These two truths are the scope and substance of this book, Triumphing Over Sinful Fear. Check back next week for a summary of chapter 2.