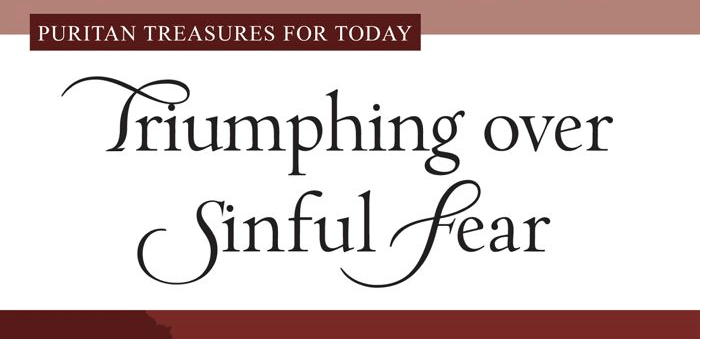 Triumphing Over Sinful Fear – Chapter 2
We continue our blog series called "Reading with the Staff." If you haven't heard of this read-along series then check out this post. The staff is reading a book by John Flavel called Triumphing Over Sinful Fear. Check back every Tuesday (or Wednesday) for a summary of the previous week's chapter.
---
In chapter 2, Flavel describes the different types of fears that are part of humanity. These fears are: natural fear, sinful fear, and religious fear. He begins with natural fear.
Natural Fear
Everyone experiences natural fear. Flavel defines natural fear like this:
It is the trouble or agitation of mind that arises when we perceive approaching evil or impending danger. It is not always sinful, but it is always the fruit and consequence of sin.
We have always had this fear ever since sin entered our world. It's what drove Adam and Eve to hide from God. Sin has caused us to naturally fear death. By Adam's sin, we have been infected with natural fear. It's now part of our humanness.
The Object of Fear
"Evil is the object of fear – the greater the evil, the stronger the fear." Christ subjected himself to the natural fear of mankind when it pleased him to take on human flesh. No evil is greater than what Christ suffered. Flavel says, "Christ's conflict with [natural fear] was so great that it made Him sweat, as it were, great drops of blood."
When Do We Fear Most?
Natural fear works, such that, our fear increases as danger gets closer. The closer the evil the greater the fear and so our tendency is to distance ourselves from the evil. Flavel explains it like this:
All carnal security is maintained by putting evil at a great distance from us. It is said of secure sensualists: they 'put far away the evil day' (Amos 6:3a). This does not mean that they put the evil day farther away from them in reality, but only in their imagination. They shut their eyes and refuse to see it, lest it should interrupt their happiness. This is the reason why death does not frighten the living: it is apprehended as remote – at an undetermined distance.
Sinful Fear
Natural fear may not necessarily be sinful, however, there is a fear that is "formally and intrinsically sinful." This is what Isaiah 8:12 calls "their fear."
Flavel explains that, "Its sinfulness lies in five things."
Its Cause
 Sinful fear arises from unbelief – an unworthy distrust of God. This occurs when we fail to rely upon the security of God's promise; in other words, when we refuse to trust in God's protection.
Fear arises from unbelief. Little faith results in great fear (Matthew 8:26).
Its Excess
The sinfulness of fear lies in its excess and immoderation when we fear more than we ought. Every bush is a bear. Every petty trouble frightens us. Our fear exceeds the value and merit of its cause. It is a great sin to love or fear any creature above its worth, as if it were master of all our temporal and eternal comforts.
Its Inordinacy
To fear something more than we ought is bad enough, but to magnify its power above that of a creature is sinful. When we exalt a creature's power by fearing it, we give it ascendancy over us. We elevate the creature beyond its class and rank to the place of God. This is a very sinful and evil fear.

Our fear magnifies and exalts the creature, putting it (as it were) in God's room and place. It thinks upon a person's harmful power so much that it forgets God's saving power. In this way, a mortal worm, which perishes as the grass, eclipses the glory of the great God, who stretched forth the heavens and laid the foundations of the earth.
Its Influence
The sinfulness of fear consists in the distracting influence it has upon the heart, whereby it unfits us for the discharge of our duties. At times, fear puts people into such a frenzy, and their thoughts into such disorder, that they receive little support or relief from their graces or from their reason. Under extraordinary fear, both grace and reason, like the wheels of a watch wound above its due height, stand still and have no motion at all.
Its Power
The sinfulness of fear consists in its power to dispose and incline people to use sinful means to escape danger. This casts them into the hands of temptation. 'The fear of man bringeth a snare' (Proverbs 29:25a). Satan spreads the net and fear drives people right into it.
Religious Fear
There is a holy and laudable fear, which is our treasure, not our torment. It is the chief ornament of the soul – its beauty and perfection. Natural fear is a pure and simple passion of the soul. Sinful fear is the disordered and corrupt passion of the soul. But the awful, filial fear of God is the natural passion sanctified – changed and baptized into the name and nature of a spiritual grace.

This fear is a gracious habit or principle, which God plants in the soul, whereby it is kept under a holy awe of the eye of God. To fear man is natural; to fear God is wholly supernatural.
Flavel has a 4-part definition of religious (or godly) fear:
God plants this fear in the soul.
This fear puts the soul under the awe of God's eye.
This fear inclines us to do what pleases God.
This fear enables the soul (to some degree) to shun or avoid whatever displeases God