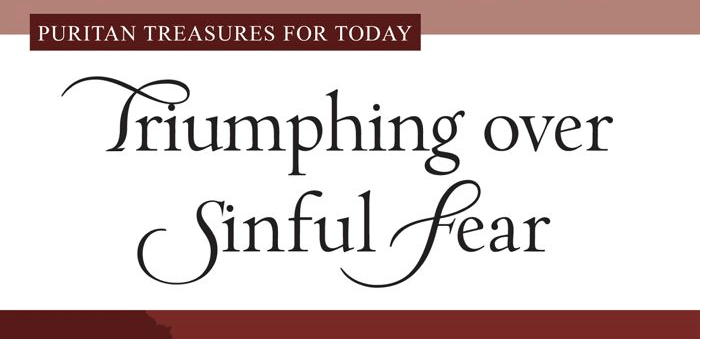 Triumphing Over Sinful Fear – Chapter 3
We continue our blog series called "Reading with the Staff." If you haven't heard of this read-along series then check out this post. The staff is reading a book by John Flavel called Triumphing Over Sinful Fear. Check back every Tuesday (or Wednesday) for a summary of the previous week's chapter.
---
In this short chapter Flavel helps us understand how God uses the different types of fear. He asks us "to consider their uses in the government of this world." Remember the 3 types of fears from chapter 2: natural fear, sinful fear, and religious (or Godly) fear. He begins with natural fear.
The Use of Natural Fear
[Natural Fear] is absolutely necessary for our civil governance. By consequence, it is necessary for the world's peace, order, and comfort. This passion acts like a bridle, curbing our corrupt inclinations. If God had not planted it in us, our nature's corruptions would make us incapable of any moral restraint from the most heinous and barbarous crimes. If fear did not clasp its chains and shackles upon our wild and boisterous lusts, we would suppress all milder motives and break loose from all bands of restraint; the world would be filled with disorder, tumult, theft, murder, and all manner of uncleanness and unrighteousness.
Although fear is not the only restraint God uses to bridle evil, it is a major aid in keeping men from committing many troubles. Flavel says, "people are afraid to do evil because they are afraid to suffer for it…Fear restrains and prevents a world of evil."
The Use of Sinful Fear
Although this fear is utterly evil and sinful, "God," Flavel says, "knows how to overrule it in His providential government of the world to His own wise and holy purposes."
Flavel argues that God uses sinful fear in the hearts of his enemies to punish them. Flavel says that he does this in 3 ways.
1) He Makes them a terror to themselves
If people will not fear God, then they will fear one another. He will make them a terror to themselves. God's deliverance of a person into the hands of his own fear is a dreadful punishment indeed. There is scarcely a greater torment in the world than for a person to be his own tormentor and for his mind to be an engine of torture to his body.
2) God uses sinful fear to punish His enemies in hell.
This terrible affliction accounts for a great part of their torment. Divines make this threefold distinction of torments in hell. (1) God punishes the wicked through the remembrance of things past. The mercies and means, which they once experienced, are irrecoverably lost. (2) God punishes the wicked through the sense of things present. God's wrath encompasses their souls and bodies. (3) God punishes the wicked through the fear of things future…more and more of God's wrath still approaching, as the waves of the sea, thrusting forward one upon another!
3) God uses sinful to scatter wicked people.
This fear puts them to flight when no other visible power can do it. God casts out the heathen before His people Israel (Psalm 78:55). How did God subdue those mighty nations? He did not do it through the strength of Israel's multitudes, but through the nation's fear: "And I sent the hornet before you, which drove them out from before you" (Joshua 24:12a).
The Uses of Religious Fear
There are many uses of godly fear, but for the sake of time and space Flavel only draws out three of those here.
1) God uses this fear to excite and confirm His people in the way of their duty.
It makes us give due respect to all of God's commands. It is powerful enough to confirm us in, and excite us to, our duties. "I will put my fear in their hearts, that they shall not depart from me" (Jerimiah 32:40). The person who fears God persists in the way of his duty. That provides a great advantage in times of fear and distraction. Slavish fear sets a person upon the devil's ground but religious fear sets him upon God's ground.
2) God uses this fear to preserve our conscience's peace.
This benefit is invaluable, especially in a day of outward calamity and distress. Our consciences' peace is directly proportionate to the degree to which the fear of God prevails in our hearts.
3) God uses this fear to make us prepare for future distress.
As a result, we are not surprised when it comes upon us. Thus, Noah "moved with fear, prepared an ark" (Hebrews 11:7). His fear was the instrument of his and his family's salvation. A wise man's fear sounds a timely alarm, before the enemy falls upon him. "A wise man feareth, and departeth from evil: but the fool rageth, and is confident" (Proverbs 14:16).