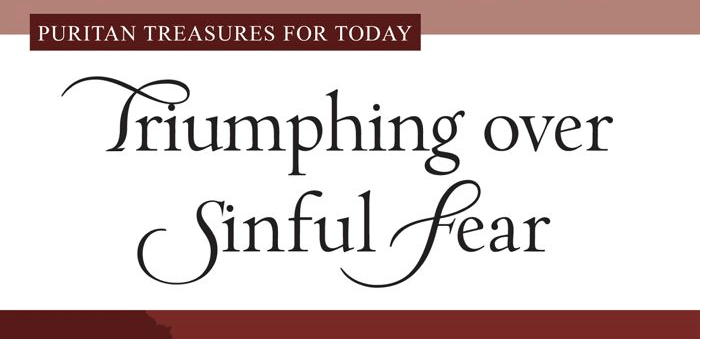 Triumphing Over Sinful Fear – Chapter 4
We continue our blog series called "Reading with the Staff." If you haven't heard of this read-along series then check out this post. The staff is reading a book by John Flavel called Triumphing Over Sinful Fear. Check back every Tuesday (or Wednesday) for a summary of the previous week's chapter.
---
In chapter 4, Flavel takes a deep dive into the causes of sinful fear. If we understand where our sinful fear arises from we will be better equipped to slay it. Flavel gives 6 causes of sinful fear and lays them out in almost outline form.
Cause 1: Ignorance
"The sinful fear of most good people arises from their ignorance…there is a five-fold ignorance from which fear arises."
1) We are ignorant of God.
We do not know (or, at least, we do not fully consider) His almighty power, vigilant care, unspotted faithfulness, and how these are engaged by covenant for His people.
2) We are ignorant of others.
We fear people because we do not know them. If we were to understand them better, we would fear them less. We overvalue them; therefore, we fear them. We fail to consider that people have no power over us except what God gives them from above. If we were to consider them as they are in God's hand, we would not tremble at them.
3) We are ignorant of ourselves.
Our failure to appreciate our relation to God creates slavish fear in our hearts (Isaiah 51:12). If we were to understand how dear we are to God, our relation to Him, our value in His eyes, and how He protects us by His faithful promises and gracious presence, we would not tremble at every appearance of danger.
4) We are ignorant of our circumstances.
We mistake our dangers and troubles; hence, we fear them. In particular, we are ignorant of the comforts in them and the escapes from them. There is a vast difference between trouble's outward appearance and inward reality. From a distance, it is a lion; but when we open it, we discover honey in its belly (Judges 14:8). Not only are we ignorant of the comforts that are found in our troubles, but we are ignorant of the doors of escape.
5) We are ignorant of the covenant of grace.
If we were better acquainted with the nature, extent, and stability of this covenant, our hearts would be free from these tormenting passions. This covenant is a universal remedy against all our fears – on spiritual or temporal accounts.
Cause 2: Guilt
Another cause and fountain of sinful fear is a guilty conscience. A servant of sin is necessarily a slave of fear. Those who commit evil must expect evil. As soon as Adam defiled and wounded his conscience with guilt, he trembled and hid himself. It is the same way with his children.
 Guilt produces fear in 3 ways:
1) It aggravates small matters, blowing them up to the height of the most fatal destructive evils.
2) It interprets all doubtful cases in the worst possible way.
3) It creates fears and terrors out of nothing.
Cause 3: Unbelief
The sin of unbelief is the real and proper cause of most distracting and afflicting fears. To the extent that our souls are empty of faith, they are filled with fear. If people were to dig to the root of their fears, they would find unbelief. "Why are ye fearful, O ye of little faith?" (Matthew 8:26). The weaker the faith, the greater the fear; unbelief generates fear and fear strengthens unbelief.
 How unbelief generates fear:
1) Unbelief weakens the assenting act of faith
It severs the soul from its principal relief against danger and trouble. It is the office of faith to impress upon the soul the invisible things of the world to come, thereby encouraging it against the fears and dangers of the present world.
2) Unbelief severs the soul from its refuge in the divine promises.
The removal of this refuge (which only unbelief can do) deprives the soul of all the help and support that God's promises supply.
3) Unbelief makes people careless and negligent in preparing for trouble.
 As a result, they are taken by surprise. The more surprising evil is, the more frightening it is. Noah was not as frightened as the rest of the world when the flood waters began to swell above the hills and mountains. There was no reason for him to be afraid, since he had foreseen it by faith (Hebrews 11:7).
4) Unbelief leaves our dearest interests and concerns in our own hands.
It commits nothing to God. Consequently, it fills the heart with distracting fears when imminent danger threatens us.
Cause 4: Confusion
"The administration of God's providence in this world provokes many of our fears." Flavel goes on to lay out many examples in church history of Saints suffering for Christ. This create confusion in our hearts when we see even the "best" of God's children suffering horrific deaths.
The revolving of these and other considerations in our thoughts, and the mixing of our own unbelief with them, creates a world of fear – even in good people. This continues until we resign everything to God, setting our faith upon His promises, which assure us of His sanctification of our troubles (Romans 8:28), His presence with us in our troubles (Psalm 92:15), His moderation of our troubles to a degree we can endure (Isaiah 26:8), and His final deliverance of us from our troubles (Revelation 7:17). In this way, we rescue our hearts from our fear and compose them to a quiet and sweet satisfaction in the wise and holy pleasure of God.
Cause 5: Immoderation
Our immoderate love of life and its comforts and conveniences is another cause of sinful fear in times of danger. If we loved our lives less, we would fear and tremble less. It is said of those renowned saints: 'And they overcame him by the blood of the Lamb, and by the word of their testimony; and they loved not their lives unto the death' (Revelation 12:11). From this excessive love of life, we are racked and tortured with ten thousand terrors.
Why?
1) Life is the natural man's greatest and closest interest in this world.
2) Since life is the natural man's dearest interest, riches treasure, and most beloved thing on earth, whatever endangers life must be the greatest evil.
3) Although death is terrible in its mildest form, it is most terrible in a violent and bloody form – at the hands of cruel and merciless people.
Cause 6: Satan
Many of our sinful fears flow from Satan's influences upon our imaginations. By working on the imagination, he influences its passions and puts it under dreadful apprehensions and distractions.