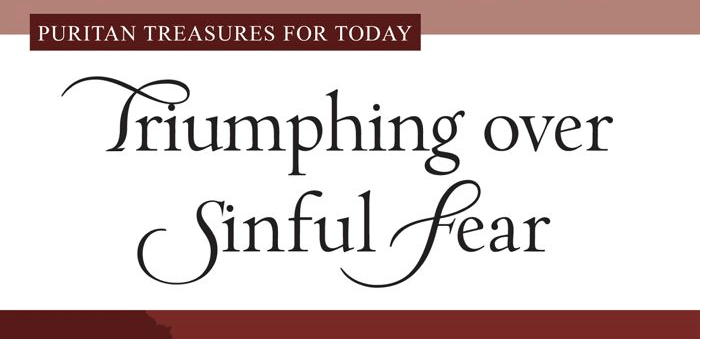 Triumphing Over Sinful Fear – Chapter 5
We continue our blog series called "Reading with the Staff." If you haven't heard of this read-along series then check out this post. The staff is reading a book by John Flavel called Triumphing Over Sinful Fear. Check back every Tuesday (or Wednesday) for a summary of the previous week's chapter.
---
Having shown us the causes of sinful fear, in chapter 5, Flavel now unpacks the effects of sinful fear. Like the previous chapter where Flavel pointed us to 6 causes of sinful fear, in this chapter he lays out 6 effects of sinful fear.
Effect 1: Distraction
 Flavel says, "The first effect of this sinful passion is distraction of mind in duty."
Much fear creates great tumult in the soul. It puts everything into hurries and distractions to such an extent that we cannot perform any service for God with profit or comfort. It is impossible to serve God without distractions until we can serve Him without the slavish fear of enemies. The reverential fear of God is the greatest spur to duty and the best help in it. But the distracting fear of enemies will divert us from our duty, thereby destroying its comfort and benefit.
This is Satan's primary objective in stirring up our fear.
The devil's hindrance of comfortable fellowship with God is a deadly snare. I don't doubt that it is one of the devil's great designs to keep us in continual fear and alarm, and to puzzle our heads and hearts with a thousand difficulties, which will probably never come upon us. He does this to unfit us for present duties and to destroy our comfort in them.
The devil gains 3 advantages when he distracts us with fear:
1) He severs us from the freedom and sweetness of communion with God in duties.

The best duties become an empty shell when this worm eats away at them. Whoever lacks possession of his thoughts never offers his soul to God.

2) Satan severs the soul from the support and relief it should draw from God's promise.
3) Satan servers us from the comfort that is found in our past experiences and the relief that God's faithfulness and goodness imparted in former straits and dangers.
Flavel says, " Our distracting fears cut us off from all these sweet reliefs when we need them most."
Effect 2: Deception
Distraction is bad enough, but deceit is even worse. Yet, as bad as it is, fear drives good people into this snare. It makes an upright soul warp and bend from those rules of integrity which should be inseparable from a Christian. God says to Israel, 'And of whom hast thou been afraid or feared, that thou hast lied, and hast not remembered me, nor laid it to thy heart? (Isaiah 57:11). God blames fear for their falsehood.
Abraham's fear made him waver (Genesis 20:2, 11). Fear drew Isaac into the same snare (Genesis 26:7). Fear caused Peter to say: "I do not know the man" (Matthew 26:72).
Effect 3: Vulnerability
Slavish fear strengthens temptation in times of danger and makes it very prevalent and influential. 'The fear of man bringeth a snare" (Proverbs 29:25). Satan spreads the net, but we are not within its reach until our own fear drives us into it. The soul's recoiling from imminent danger might cause a true Christian's pulse to falter – no matter how regular it beats at other times. It causes great trepidation and timidity in people who are sincere and upright.
3 dangers of this snare:
1) Fear drives people out of their proper station, out of their place and duty into Satan's ground. Satan cannot attempt to ruin us while we are under the wings of God's protection. To do anything to us, he must first force us out from under those wings. Nothing does this more effectively than fear.

2) Fear is usually the first passion to seek peace with the enemy. It approaches the tempter about terms of surrender. Fear consults with flesh and blood, while faith engages with God to supply strength to endure the siege.

3) Fear makes people impatient while waiting for God's time and method of deliverance.
Effect 4: Cowardice
Fear naturally produces cowardice in people – a poor, low spirit that faints and yields upon every slight assault. Wherever it prevails, it extinguishes Christian courage and strength. If carnal fear is ascendant over us, our courage and resolution melt away.
Effect 5: Apostasy
Carnal fear is the very root of apostasy. It has caused thousands of professors to faint and fall away in the hour of temptation. It is not so much our enemies' fury without as our own fears within that make temptations victorious over us. As long as we can profess religion without any great hazard to life, liberty, or estate, we show much zeal in the way of godliness. But when it comes to resisting unto blood, few will assert it openly. The first retreat is usually made from a free and open to a closed and concealed practice of religion. We fail to open our windows to show that we do not care who knows we worship God (Daniel 6:10). We seek to escape danger by letting go of our profession.
Effect 6: Bondage
Sinful fear places people under great bondage of spirit and makes death a thousand times more terrible and intolerable. We read of some 'who through fear of death were all their lifetime subject to bondage' (Hebrews 2:15). This means that fear kept them in miserable anxiety and perplexity of mind, like slaves that tremble at the whip which is held over them.
Surely, a trembling life is the most miserable life that can be lived. Why?
1) A trembling life destroys all of life's comforts and pleasures. No pleasure can thrive under the shadow of this cursed plant.
2) A trembling life destroys the spiritual comforts that flow from God's promises. When terrors of death are great the comforts of the Almighty are small.
3) A trembling life deprives us of the manifold advantages that arise from a calm and composed meditation upon death. If we could sprinkle the dust of the grave upon our minds [without fear], it would prevent many sins and miscarriages in our words and actions.