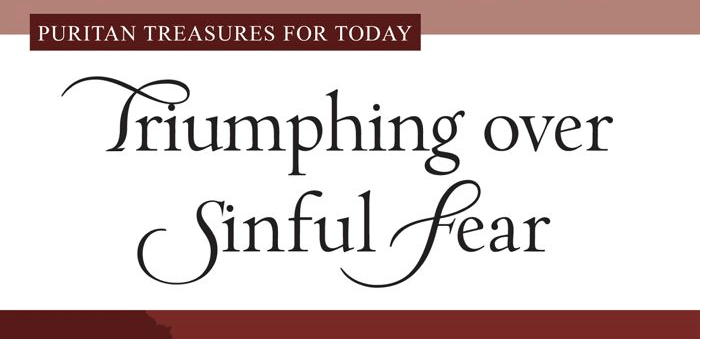 Triumphing Over Sinful Fear – Chapter 7
We continue our blog series called "Reading with the Staff." If you haven't heard of this read-along series then check out this post. The staff is reading a book by John Flavel called Triumphing Over Sinful Fear. Check back every Tuesday (or Wednesday) for a summary of the previous week's chapter.
---
Flavel spends his final chapter dealing with excuses for cowardly fear. Many times we try to justify our fear and Flavel wants to head off these unwarranted justifications of our sinful fear. He calls the chapter "Objections Answered."
The pleas and excuses for cowardly fear in days of trouble are endless. They have an abundance of pleas and excuses for their fear. They reason the point of suffering in their own thoughts. The matter is debated between faith and fear. Oh, what endless work does their fear impose upon their faith – to solve all the "buts" and "ifs" it raises! I think it is worthwhile to consider some of the principal objections.
Objection 1: I Am Unaccustomed to Suffering
Some people object, "Suffering for Christ is a strange thing to Christians in this age. We are fortunate to live in milder times – unlike the primitive Christians, and those who struggled in our land at the beginning of the Reformation. By reason of our lack of familiarity with suffering our fears are excusable."
One fault is a poor excuse for another. Why is suffering such a stranger to you? Why did you not expect it when enjoying the day of peace? Did you not covenant with Christ to take up your cross and follow him? Does not the Word plainly tell you that "all that will live godly in Christ Jesus shall suffer persecution" (2 Tim. 3:12)? Does not the Word declare that "we must through much tribulation enter into the kingdom of God" (Acts 14:22)?
But Zion's children should be better instructed. How soon may the brightest day be overcast! The weather is not as variable as the state of the church. As a learned man rightly observed, "The older the world grows, the drowsier it grows." These are the days in which the wise and foolish virgins slumber (Matt. 25:1-13). Surely it is a poor excuse to say, after so many warnings from the Word and the rod, "I did not think of such times. I did not expect them."
Objection 2: I Am Naturally Tender and Sensitive
Some people claim that their nature is soft and tender. "I am altogether unfit to grapple with these torments. My heart faints and dies within me whenever I hear of the martyrs' barbarous deaths. I am excused on account of my fear and faint heart."
It is a great mistake to think that the strength of natural constitution can carry anyone through suffering for Christ. It is also a great mistake to think that natural tenderness and weakness, when divinely assisted, cannot bear the heaviest burden that God ever laid on a Christian's shoulders. Our ability to bear suffering does not come from nature, but grace. God can make the most tender to stand when strong bodies and resolute minds faint and fall.
Are our bodies so weak and our hearts so tender that we cannot bear suffering for Christ? If this is the case, then we are unfit to be His followers. Christianity is warfare. We must resolve, in God's strength, to hazard all with Him and for Him. If, reader, your constitution is so delicate and tender that you are unable to bear the thought of torments for Christ, how is it that you are not more terrified with hell's torments? Our souls should shrink and shake at the thought of the infinite and unbearable wrath of the great and terrible God rather than the bodily suffering, which is momentary.
Your Father's wisdom and tenderness will proportion your burden to your back. He will not overload your feeble shoulders. That which seems unbearable will become easy in trial. God will certainly provide a way of escape or support, enabling you to bear it.
Objection 3: I Am Unable to Withstand Small trials
Other people point to their previous experience of feebleness and weakness in trials. Their faith and patience failed them. They cannot imagine that they will ever be able to stand in the fiercest trial. We are strong or weak, great or small, in our trials, according to God's assisting grace.
Abraham can offer up his only son to God (Gen. 22:6). The next, he is so afraid for his life that he acts shamefully, for which Abimelech rebukes him (Gen. 20:9). In extraordinary trials, we can expect extraordinary assistance.
God's design in permitting us to experience our weakness in lesser troubles is not to discourage us when we encounter greater trials (that is Satan's use). His purpose is to sever us from self-confidence and self-dependence, and to make us see our weakness so that we heartily and humbly bring ourselves to Him in the way of faith and fervent supplication.
Objection 4: I Am Afflicted with Depression
Some people argue that they cannot control their fear because it is a disease with which God has wounded them. A deep and fixed depression prevails upon them to such an extent that the least trouble overwhelms them. If any sad providence befalls them or even threatens them, their fear rises, their hearts sink, their thoughts revolt, their blood boils, and the whole frame of nature is put into disorder.
I know this is the sad case with many gracious persons. Yet, God's wisdom has ordered this affliction upon His people for gracious ends and uses. He uses it to make them more tender. In great trials, that which appears to be a snare might be to your advantage. How?
These illnesses of body and distresses of mind serve to embitter the comforts and pleasures of this world to you (Remedy #5 Mortify Your Affections to the World).
Are you a depressed and timid person? If you are saved by grace, it will ultimately drive you closer to God. The greater your dangers, the more frequent and fervent your approaches to Him will be.
What if the Lord makes an advantage out of your weakness – to display His power in supporting you? If the apostle's infirmities serve as a foil to display God's grace with brighter luster, he will rejoice in his infirmities (2 Cor. 12:9-10). So should you.
Objection 5: I Am Afraid God Will Abandon Me
Still other object, "What if God hides His face from my soul in the day of my straits and troubles? What if he permits Satan to buffet me with his horrid temptations?
As long as the fear of such misery awakens you to pray for its prevention, it is serviceable to your soul. When it only produces distraction and despondency of mind, it is your sin and Satan's snare.
It is unusual for God to estrange Himself from His people in times of trouble and to frown upon them when others do. The common evidence of believers stands ready to attest to this truth: they never find more kindness from God than when they feel most cruelty from people for His sake. Consult the whole cloud of witnesses and you will find they have found the truthfulness of that word.
What if it should happen, according to your fear, that heaven and earth are clouded together? It will not be long before the pleasant light springs up again (Ps. 112:4). You will have His supporting presence until the Comforter comes.
Objection 6: I Am Unable to Persevere
Some people argue as follows: "What if my trial is long and temptation's siege is tedious? If that happens, I am persuaded that I am lost. I am unable to continue long in prison or torture.
You distrust your own strength and ability, but must you also limit God's? What if you have but a limited amount of patience? Is the Lord unable to strengthen you "with all might, according to his glorious power, unto all patience and long-suffering with joyfulness" (Col. 1:11)? Has He not promised to "confirm you unto the end" (I Cor. 1:8)?
You are not to measure your ability to suffer according to your inherent strength, but God's assisting grace. The Lord knows the proper season to come to the relief of your fainting patience. God's power watches over your weakness.
Objection 7: I Am Unable to Endure a Violent Death
Finally, some object, "What if I should suffer cruel and exquisite tortures like the rack of fire – the most dreadful suffering that Christians have ever experienced? What will I do? Am I able to bear it?
Who enabled Christians in the past to endure such things? They sensed pain just like you. They had the same thoughts and fears. Yet God carried them through it all. Was he not present in the fire?
We judge suffering by the outside; it is terrible. But we do not know the inside of suffering; it can be exceedingly comfortable. When will we do away with our unbelieving "ifs" and "buts," our questioning and doubting of God's power, wisdom, and tender care over us? When will we learn to trust Him in everything? "The just shall live by faith" (Hab. 2:4). Whoever lives by faith never dies by fear. The more you trust God, the less you will torment yourself.